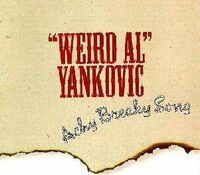 Song: Achy Breaky Song
Running Time: 3:23
Year: 1993
Album: Alapalooza, Achy Breaky Song
Parody of: Achy Breaky Heart by Billy Ray Cyrus
Lyrics: Lyrics
Video: None
Forum: Forum Discussion Page
Eighteen years after this song was released, Al parodied Billy Ray's daughter Miley Cyrus' song "Party in the U.S.A." with "Party In The CIA." This marks the first time that Al has parodied father/daughter artists.
Al's royalties from this song were donated to the United Cerebral Palsy Association because Al and the original songwriter, Don Von Tress, agreed that the song ended up being overly mean-spirited.
Musicians and Bands Mentioned in the Song
Edit
Community content is available under
CC-BY-SA
unless otherwise noted.