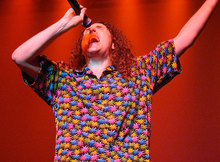 Song: Albuquerque
Running Time: 11:23
Year: 1999
Style parody of: Dick's Automotive by The Rugburns
Album: Running With Scissors
Genre: Alternative rock
Lyrics: Lyrics
Video: None
Listen/Download:
Forum: Forum Discussion Page
This song is very similar to The Rugburns' "Dick's Automotive." Al gave them a special thanks on his next album, Poodle Hat.
Al incorporates multiple recurring jokes, used through his entire career, into the song:

Food: "a big ol' bowl of sauerkraut for breakfast", warm root beer, Dr. Pepper, salted peanuts, "eat your soup right out of the ashtrays", little chocolate mint, donuts (glazed donuts; jelly donuts; Bavarian cream-filled donuts), cinnamon rolls, apple fritters, "the color of strained peaches", "we ate together", "The world was our burrito", Sizzler, "he hasn't had a bite in three days" and "I HATE SAUERKRAUT!".

The donut bit is likely a reference to the Cheese Shop sketch from Monty Python's Flying Circus, in which a customer gets increasingly frustrated that the cheese shop has no cheese to sell.
When performing this song live, Al sometimes extends the donut bit, with his character asking for more kinds of donuts than in the original song (including "Halle Berry donuts")

27: Al says he was fed sauerkraut every day until he was 26½ years old (an almost-reference to the number).
Television: Leonard Nimoy (American actor known for playing Spock in the Star Trek franchise), "in-flight movie was Bio-Dome with Pauly Shore", Spectravision.
nostrils: "some big fat hermaphrodite with a Flock-Of-Seagulls haircut and only one nostril".

At 11 minutes and 23 seconds long, this is Al's longest recorded song.
The lyric booklet that comes with Running With Scissors only contains the first few sentences of the lyrics followed by a message: ...you know what? The rest of these lyrics aren't gonna fit on here. There's just no room left. What a drag, huh? I guess we didn't plan this out very well . . . probably should've used a smaller font or a bigger piece of paper or something. Sorry. We all feel just horrible about this. Well, I guess you'll just have to listen really carefully and try to figure out the words for yourself. Good luck.
Al claims he didn't foresee this song becoming particularly popular with fans; his main goal was to annoy listeners with a needlessly long and rambling song.
When performing this song live, during the bit where Zelda calls him "Sweety Pumpkin", Al will often throw in a few other names for her to say.
The "box of one dozen starving, crazed, weasels" may be a reference to the Frank Zappa album Weasels Ripped My Flesh.
Community content is available under
CC-BY-SA
unless otherwise noted.