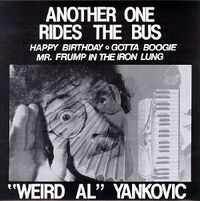 Song: Another One Rides The Bus
Running Time: 2:38
Year: 1981
Album: "Weird Al" Yankovic, Al-In-The-Box, The Essential "Weird Al" Yankovic
Parody of: Another One Bites the Dust by Queen
Genre: Funk rock
Lyrics: Lyrics
Video: None
YouTube Link: https://www.youtube.com/watch?v=79QxturUolo
The original "Another One Bites the Dust" is in they ke of E minor bordering on F minor; Al's version is in A minor.
Al released his second-ever record Another One Rides the Bus in February of 1981, on his own "label" Placebo Records. Also on the record were early recordings of "Gotta Boogie", "Happy Birthday" and "Mr. Frump In The Iron Lung". The record was funded by a loan from Dr. Demento and distributed to record stores on consignment.
The master recording from this song is taken from the original live performance on The Dr. Demento Show on September 14th, 1980. The song was never re-recorded in the studio.

This particular performance marked the first appearance of drummer Jon "Bermuda" Schwartz, whom Al met in the hallway of the radio studio soon before going on air. He can be heard banging on Al's accordion case.

Al made his television debut with this song on April 21st, 1981 on The Tomorrow Show with Tom Snyder. Jon Schwartz returned to bang on Al's accordion case as well as various bulb horns and sound effects.
A single for the song was released in 1981 on TK Records, which went bankrupt soon after the single came out. Al claims he never received royalties from sales of the record.
In an interview, Queen's Brian May made mention of this song, attributing it to "Mad Al."
This song is the third longest song title by Weird Al, the following being Trapped in the Drive-Thru and Attack Of The Radioactive Hamsters From A Planet Near Mars.
Community content is available under
CC-BY-SA
unless otherwise noted.