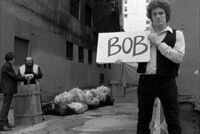 Song: Bob
Album: Poodle Hat
Running Time: 2:30
Year: 2002
Style Parody of: Bob Dylan's 115th Dream By Bob Dylan
Genre: Folk rock
Guitar tuning: E standard
Lyrics: Lyrics
Video: Yes
Forum: Forum Discussion Page
Trivia
[
]
In the video "Weird Al" Yankovic is portraying Bob Dylan.
This song consists entirely of palindromes. (The title, Bob, is a palindrome itself.)
This song was composed and released in 2002, which is a palindromic number.
This song's video is a parody of Bob Dylan's music video for "Subterranean Homesick Blues".
Jon "Bermuda" Schwartz and Jay Levey (who direct some of "Weird Al"'s music videos) cameo in the music video as the guys in the background in the alley who, in the Dylan original filmed outside The Savoy Hotel, London in 1965, were Allen Ginsberg and Bob Neuwirth.
The music video was shot in an alley in downtown L.A.
"Weird Al" also parodies Bob Dylan in UHF.