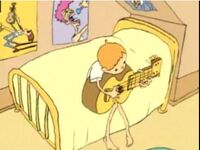 Song: Don't Download This Song
Running Time: 3:54
Year: 2006
Album: Straight Outta Lynwood, White & Nerdy
Style Parody of: 80's group charity songs genre, USA For Africa ("We Are The World"), "Hands Across America", and "Do They Know It's Christmas?".
Genre: Pop/Gospel
Guitar tuning: E standard
Lyrics: Lyrics
Video: Yes
Download/Listen:
Forum: Forum Discussion Page
Video animated by Bill Plympton, who also animated the video for "TMZ".
During the song's fade out you can hear Al say "You cheap bastard!". Weird Al doesn't swear (neither in his music or his day-to-day life) so this is arguably the strongest language present in his entire body of work.
"It doesn't matter if you're a grandma" is likely a reference to 83 year-old Gertrude Walton, whom the RIAA sued despite being deceased.
"Or a seven year-old girl" is likely a reference to Kylee Andersen, whom the RIAA sued at age 10 for suspected copyright infringement made at age 7.
Lars Ulrich is the drummer for Metallica. Ulrich's stance against copyright infringement (hence, "even Lars Ulrich knows it's wrong") led Metallica to successfully sue file-sharing website Napster. Napster was forced to remove all Metallica songs from the site. https://en.wikipedia.org/wiki/Metallica_v._Napster,_Inc.
Tommy Chong is an actor and marijuana enthusiast who pled guilty to a conspiracy to distribute glass paraphernalia and was sentenced to nine months in prison ("please don't you do it or you might wind up in jail like Tommy Chong"). https://en.wikipedia.org/wiki/Tommy_Chong#US_vs._Chong
Ironically, this song was available as a free download on both Weird Al's Myspace page and YouTube channel.
Community content is available under
CC-BY-SA
unless otherwise noted.