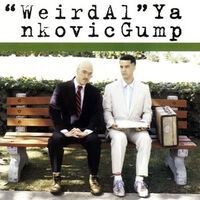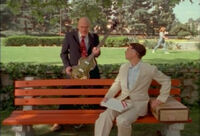 Song: Gump
Running Time: 2:10
Year: 1996
Album: Bad Hair Day, Gump
Parody of: Lump by The Presidents of the United States
Genre: Alternative rock
Lyrics: Lyrics
Video: Yes
Download/Listen: None
This song is based on the movie Forrest Gump.
Andy Comeau plays Gump in the music video.
Ruth Buzzi makes a cameo in the music video as the woman who beats Gump on the bench.
Pat Boone makes a cameo in the music video as man who scoffs Gump's chocolates.
In the music video Al's bass guitar only has one string, a reference to the instruments the Presidents of the United States of America play; lead singer Chris Ballew plays a "basitar" (a guitar strung with only two strings) and guitarists Dave Dederer and Andrew McKeag play a "guitbass" (a guitar with three strings). Both are normally tuned to open power chords.
In the music video for this song, Al bends his guitar neck like rubber. He does the same thing in the music videos for "Smells Like Nirvana" and "Money For Nothing/Beverly Hillbillies".
The Presidents were extremely flattered by the parody, and even use Al's "run, Forrest, run" bridge and the line "and that's all I have to say about that" when performing the song live.
Al would later go on to direct a music video for the Presidents: "Mixed Up S.O.B." from their 2009 album These Are The Good Times People.
Community content is available under
CC-BY-SA
unless otherwise noted.