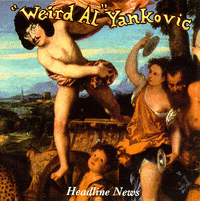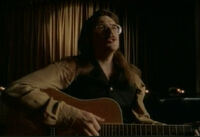 Song: Headline News
Running Time: 3:46
Year: 1994
Album: Headline News; Al-In-The-Box; Greatest Hits Vol. 2; Medium Rarities
Parody of: Mmm Mmm Mmm Mmm by Crash Test Dummies
Genre: Alternative rock
Lyrics: Lyrics
Video: Yes
Download/Listen: None
Forum: Forum Discussion Page
The song tells the story of Michael P. Fay, Nancy Kerrigan, and John Bobbitt, which were all the subjects of the song and of the headlines in the ' 90s.
In The Music Video, the kid Pulls Out his spray paint at Gate 27.
Dr. Demento makes cameo as one of the people exiting the theater.
"Weird Al"'s curly hair was temporarily straightened for this song's music video.
The music video for this song was filmed in an actual school and an actual ice rink.
Sometimes when done live, Al will include a verse about Paris Hilton going to prison or Britney Spears shaving her head.
Community content is available under
CC-BY-SA
unless otherwise noted.