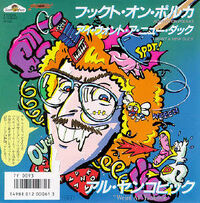 Song: Hooked On Polkas
Running Time: 3:54
Year: 1985
Album: Dare To Be Stupid, Al-In-The-Box
Medley of:

Lyrics: Lyrics
Video: None
Download/Listen: Mp3
Forum: No Forum Page
The first polka medley to feature "Shave and a Haircut" during the outro.
The title is a play on Hooked on Classics, a series of compilation records featuring medleys of classical pieces rearranged with disco beats.
Unusually for a polka medley, this one was released as a single in Japan. The only other medley to receive a single release was "Polka Power!" from Running With Scissors, released only in Germany.
Al sings the original German version of "99 Red Balloons" (titled "99 Luftballons"), though he mixes up some words and syllables and some of it comes out as nonsense.
Community content is available under
CC-BY-SA
unless otherwise noted.