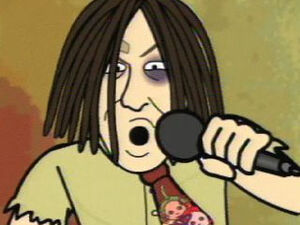 Song: I'll Sue Ya
Running Time: 3:51
Year: 2006
Album: Straight Outta Lynwood
Parody of: Style parody of Rage Against the Machine ("Killing in the Name", "Wake Up", and "Bombtrack")
Genre: Rap metal
Guitar tuning: Drop D
Lyrics: Lyrics
Video: Watch: YouTube
Download/Listen:
Forum: Forum Discussion Page
Al's Suing Reasons
[
]
Eating half a million chalupas and getting fat. (Taco Bell)
Using Panasonic's microwave to dry off his cat. (Panasonic)
Calling EarthLink and being put on hold. (Earthlink)
Spilling a cold Frappuccino on his lap. (Starbucks)
Swallowing a Nerf ball and nearly choking to death. (Toys "R" Us)
Eating a bag of kitty litter and getting bad breath. (Petco)
Putting his finger down in a bottle of Coca-Cola and getting it stuck. (The Coca-Cola Company)
Buying a ticket to New Jersey, going there, and finding out that it sucks. (Delta Air Lines)
Shoving a Duracell's AA right up his nose. (Duracell)
Buying a Home Depot's hammer and dropping it on his toes. (Home Depot)
Taking a bath with his laptop, causing it to stop working. (Dell Computers)
Looking like a jerk when he wearing Fruit of the Loom's tightie-whities on his head. (Fruit of the Loom)
Getting all depressed every time his cellphone is roaming. (Verizon)
It looks too much like Wyoming. (The state of Colorado)
Neiman Marcus putting up their Christmas decorations way out of season. (Neiman Marcus)
He wanted to sue Ben Affleck, claiming that he didn't even need a reason to do so.
Misspelling Names
[
]
Taco Bell: Taco Belle
EarthLink: UghrthLink
Starbucks: Starbux
Toys 'R' Us: Toysaurus
Petco: Petko
Coca Cola: Koca Kola
Delta Air Lines: Dellta
Duracell: Dura$ell
Home Depot: The Homey Depot
Dell: Del
Neiman Marcus: Nemen Markus
Also, on the Verizon Guy's shirt, instead of Verizon, it said "Shut Up or I'll KILL You" and he turned into a devil
Trivia
[
]
This is the closest thing so far to an original rap song by Weird Al, notwithstanding "Twister" (from Even Worse), a parody in the style of The Beastie Boys.
The first thing Al complains about is how he got fat.
In the animation, the lawyer uses Tom Morello's "Arm the Homeless" guitar with "Homeless" replaced by "Lawyers".
The animation is made to match Rage Against the Machines' music videos.
The end of the video shows the band driving in a car, and when seen from the front the trio looks like the Pep Boys.
Al's license plate says I-SUE-U
Throughout most of the video, Al is wearing a Teletubbies necktie.