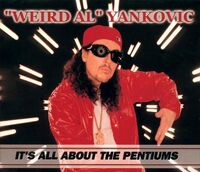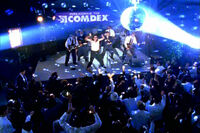 Song: It's All About the Pentiums
Running Time: 3:34
Year: 1999
Album: Running With Scissors, It's All About The Pentiums
Parody of: It's All About the Benjamins by Puff Daddy
Genre: Rap rock
Lyrics: Lyrics
Video: Yes
Forum: Forum Discussion Page
The female "It's all about the Pentiums, baby" vocals were uncredited on the album; Al claims the woman who performed them was being paid "under the table". The official Weird Al Archives identifies her as Natasha Barr.
The Commodore 64 referred to in the song was originally released in 1982 and was one of the most popular home computers before the Apple Macintosh. It was named for it's 64 kilobytes of RAM.
The video features several cameos:

Emo Philips is the nerdy guy who puts White-Out on his screen and prints off a picture of Sarah Michelle Gellar.
Drew Carey is the guy who dances with Al in a red tracksuit.
Jon "Bermuda" Schwartz is not only Al's drummer (as usual) but also the guy in the office who lip-syncs to the "Yeah! Yeah! Yeah!" backing vocals.
John Ranlett, a professional Bill Gates look-alike, plays Bill Gates.
Comedian and voice actor Phil LaMarr, best known as a cast member on MADtv and for playing Hermes on Futurama, plays an audience member dancing to Al and his band.

The office scenes of the video were shot at the Los Angeles County Department of Public Works in Alhambra, California.
The car featured at the beginning of the video is a Nash Metropolitan, which Al's character George Newman also drove in UHF (movie).
The "live" performance in the video fictitiously takes place at COMDEX (Computer Dealer's Exhibition), a real annual computer trade show that took place near Las Vegas from 1979 to 2003.
The portion of the video shot in the black tunnel with fluorescent lighting is based on shots in the video for Notorious B.I.G. - Mo Money Mo Problems, also featuring Puff Daddy.
Community content is available under
CC-BY-SA
unless otherwise noted.