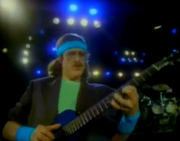 Song: Money For Nothing/Beverly Hillbillies*
Running Time: 3:11
Year: 1989
Album: UHF, TV Album, Al-In-The-Box
Parody of: Money For Nothing by Dire Straits
Genre: Pop rock
Lyrics: Lyrics
Video: Money For Nothing/Beverly Hillbillies*
Forum: Forum Discussion Page
This song's music video is very similar to the original song's music video.
This song was made for the movie UHF.
Rick Morris was the master editor of the computer animation for the music video for this song.
Mark Knopfler of Dire Straits also played the guitar on this parody. Guy Fletcher played synthesizer.
This is one of the many "Weird Al" songs where the theme is Television.
When asked about the name of the song, Al said, "We had to name that song 'Money for Nothing "slash" Beverly Hillbillies "asterisk"' because the lawyers told us that had to be the name. Those wacky lawyers! Whatcha gonna do?"
This is the first music video uploaded to Weird Al's VEVO channel in 2014.
Originally, in the song, there was going to be a beginning part parodying Let's Go Crazy.
Community content is available under
CC-BY-SA
unless otherwise noted.