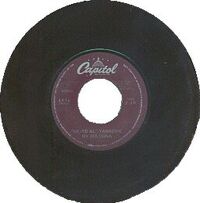 Song: My Bologna
Running Time: 2:20 (original version), 2:03 (album version)
Year: 1979 (original version), 1983 (album version)
Album: "Weird Al" Yankovic, My Bologna, Permanent Record, The Food Album, Medium Rarities
Parody of: My Sharona by The Knack
Genre: New wave
Lyrics: Lyrics
Video: Video on DVD
Download/Listen: None
Forum: Forum Discussion Page
Alternate Versions: My Bologna (food medley)
This is the first Weird Al parody song to gain wide recognition after being played on Dr. Demento's radio show. It went to number one on Dr. Demento's "Funny Five" most requested songs of the week, and was the third-most requested song that year.
Al recorded the original version of the song himself in the men's bathroom across the hallway from KCPR, the radio station at Cal Poly San Luis Obispo where he was a DJ at the time. It was later re-recorded with a full band for his first album.
The Knack frontman Doug Fieger was a fan of the song and used his connections at Capitol Records to sign Al to a six-month contract, under which they released "My Bologna" as a single; the contract expired without Al releasing another single.
Though Al pronounces bologna as "ba-LOW-nah" in order to rhyme with the original song's "Sharona", it is usually pronounced "ba-LOW-nee" in North American English (and is sometimes spelled "baloney").
The original song is in the key of G; Al's version is played in E.
Though there is no official music video, Al's friend Randy Kerdoon recorded a video of him lip-syncing to the song for a class project at Cuesta College in San Luis Obispo in December 1979. It can be found as an easter egg on The Ultimate Video Collection DVD.
This song is sometimes performed as part of the Food Medley.
The Permanent Record box set features the original version of the song, but the first batch of copies was made with the album version in its place by mistake.
The original version was included on the compilation album Dr. Demento's Dementia Royale.
Community content is available under
CC-BY-SA
unless otherwise noted.