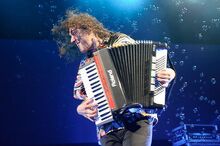 Song Info:
Song: Polka Face!
Running Time: 4:41
Year: 2010
Album: Alpocalypse
Medley of:
Leichenstiener Polka
Tick Tock Polka by Frankie Yankovic
Genre: Polka
Guitar tuning: E standard
Lyrics: Lyrics
Video: Yes
Download/Listen: None
Forum: Forum Discussion Page
This is the first polka with an official music video.
The fifth polka medley to use "Shave and a Haircut" during W.A.Y. Moby Polka.
Al uses a portion of the "Tick Tock Polka" by polka legend Frankie Yankovic. The two are not related.
This was the only polka with a music video until The Hamilton Polka received a video in July 2020.
Community content is available under
CC-BY-SA
unless otherwise noted.