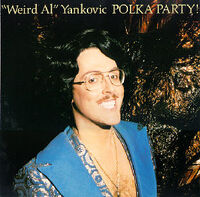 Polka Party! is Weird Al's fourth studio album released in 1986. The album sold terribly, and is generally considered by his fans his worst album. It nearly destroyed Weird Al's career as well. The album created 2 singles titled Living With A Hernia and Christmas At Ground Zero. The album was originally released on Vinyl, Cassette and CD making it the first first Weird Al record to have a CD release in its release year with the last three albums being re-issued on CD later. The album was re-issued in 1999 on CD by the label Volcano Records.
Polka Party was a commercial failure. It received mixed reviews, and did not receive a Gold or Platinum award from the RIAA. The album only got a 177 spot on the Billboard 100 even with the single Living With A Hernia promoting it, with even the single not doing well in the charts.
The music on Polka Party is made upon parodies and style parodies of pop and rock music of the 80s. The album also includes style parodies. There is five originals, 4 parodies and 1 polka song.
Personnel
Edit
"Weird Al" Yankovic – Accordion, Keyboards, Vocals, Background Vocals
Rick Derringer – Guitar
Steve Jay – Banjo, Bass, Background
Jim West – Guitar, Background Vocals
Jon "Bermuda" Schwartz – Percussion, Drums
Tony Papa – Engineer
Bill Anderson – Tenor Saxophone
Sonny Burke – Piano
James Cox – Guitar Synthesizer
Dennis Fetchet – Fiddle
Gary Herbig – Clarinet, Saxophone
Tommy Johnson – Tuba
Warren Luening – Trumpet
Joel Peskin – Clarinet
Lisa Popeil – Background Vocals
Pat Regan – Synthesizer
John Roarke – Voices
The Waters Sisters – Background Vocals
Production
Edit
This is Weird Al's worst selling album.
The chord Al plays on the album cover is an F
All of the songs on this album are longer than 3 minutes but less than 4 minutes
See Also
Edit
Community content is available under
CC-BY-SA
unless otherwise noted.