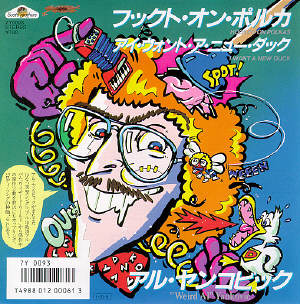 Hooked On Polkas is Al's second polka medley relased on Dare To Be Stupid.
Single: Hooked On Polkas
Released: June 18, 1985 (Japan exclusive)
Recorded: March 25, 1985
Total running time: 6:52
Songs in Medley
Edit
Twelfth Street Rag by Pee Wee Hunt
State of Shock by The Jacksons & Mick Jagger
Sharp Dressed Man by ZZ Top
What's Love Got to Do with It by Tina Turner
Method of Modern Love by Hall & Oates
Owner of a Lonely Heart by Yes
We're Not Gonna Take It by Twisted Sister
99 Luftballons by Nena
Footloose by Kenny Loggins
The Reflex by Duran Duran
Bang Your Head (Metal Health) by Quiet Riot
Relax by Frankie Goes to Hollywood
Ear Booker Polka by "Weird Al" Yankovic
This and Polka Power! are the only polkas to be released as singles.
Community content is available under
CC-BY-SA
unless otherwise noted.