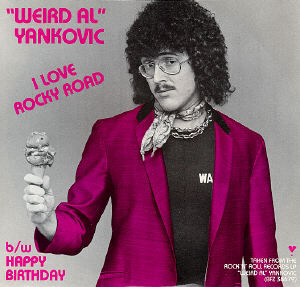 I Love Rocky Road is a parody of Joan Jett and the Blackhearts cover of the Arrows I Love Rock 'n' Roll. The song is talking about Rocky Road flavoured ice cream.
Single: I Love Rocky Road Released: July 5, 1983 Recorded: March 14, 1982 Total Running Time: 6:01
Tracks
[
]
(Promo single doesn't include Happy Birthday)
Trivia
[
]
This is Weird Al's fourth single.
It charted at no. 6 on the U.S Billboard Bubbling Under Hot 100 Singles.
Music Video (from Wikipedia)
[
]
The music video was the directorial debut of Dror Soref and parodies the "I Love Rock 'n Roll" music video, with these differences from the original:
It takes place in an ice cream parlor, rather than in a bar.
It was shot in color rather than in black and white (although the Joan Jett original was shot in color initially).
It was videotaped rather than filmed.
In "I Love Rock 'n Roll", Joan Jett says "Ow!" twice for her enthusiasm. In "I Love Rocky Road", Weird Al says "Ow!" in reaction to an ice cream-induced brain freeze, the second time he says "Ow!" in reaction to a kid biting his leg.
Dr. Demento makes a cameo appearance as a cashier.
While Al is playing his accordion, the cover photo for the single can be seen.
Yankovic wears a black leather jacket with the I Love Lucy logo, as a reference to Yankovic's first music video, "Ricky".
The ice cream in the video was actually mashed potatoes because real ice cream would melt under the stage lights.[1]
When Yankovic sings the line "If I get fat and lose my teeth, that's fine with me," he smiles to reveal all his teeth have either fallen out or are rotten.