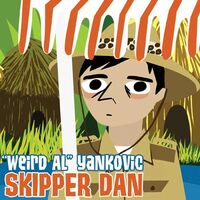 Song: Skipper Dan
Running Time: 4:01
Year: 2009
Album: Alpocalypse, Internet Leaks
Style Parody of:' Weezer ('Pork and Beans, Undone (The Sweater Song), Buddy Holly, Island in the Sun)  and Fountains of Wayne (Stacy's Mom, Radiation Vibe, Denise, Sink to the Bottom)
Genre: Alternative rock/Power pop
Guitar tuning: E flat
Lyrics: Lyrics
Video: Yes
Download/Listen: Shockhound.com
Forum: Forum Discussion Page
Trivia
[
]
This song is about the Jungle Cruise at Disneyland.
A canteen belonging to Skipper Dan was added to the unload area of the Disneyland version of the attraction in 2021.
The jokes referenced in the bridge, explained:

"Bengal tigers can jump over twenty feet": Followed by the reassurance that luckily, the one the boat is passing is only four feet away.
"That's an African bull elephant": Followed by a description of its distinctive features. Then, in case anyone on the boat has a short memory, the skipper points out a second one, repeating the same spiel word for word.
"There it is, the back side of water": This is the punchline of probably the most famous joke on the ride. The boat first travels past a waterfall, then around a loop past some other scenery. As the boat returns, it passes behind the same waterfall, with the skipper excitedly playing up the significance of getting to see such a rare sight.

The video was animated by Divya Srinivasan who is best known for her collaborations with They Might Be Giants, whom Al is a well-known fan of. 
Unlike any of the songs he made, this is considered to be Weird Al's most dramatic song (as well as TMZ).
In the second verse, Skipper Dan says "Don't bother tryin' to IMDB me." however, there is an IMDB page for the song. You can find it here.