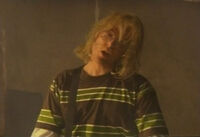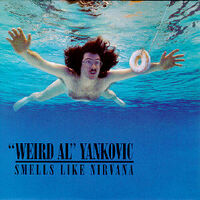 Song: Smells Like Nirvana
Running Time: 3:43
Album: Off The Deep End, Al-In-The-Box, Smells Like Nirvana, The Essential "Weird Al" Yankovic
Year: 1992
Parody of: Smells Like Teen Spirit by Nirvana
Lyrics: Lyrics
Video: See Visuals
Download/listen: None
Forum: Forum Discussion Page
Krist Novoselic of Nirvana said that the band felt they had "made it" after Yankovic recorded this song. Kurt Cobain called Yankovic an American pop rock genius in his private journal.
The one condition Nirvana had for Al making this parody was that it couldn't be about food.
The late Dick Van Patten makes a cameo in the music video on one of the bleachers. He also appears briefly on "Bedrock Anthem".
The janitor that appears in the music video is the same one that appears in the clip for "Smells Like Teen Spirit".
The cheerleaders are also the same ones that appeared in the original song
Al says the name of the album the parody was on when he sings 'What were the words? Oh Nevermind'.
Mannequins were used in some scenes either a person got thrown around, or in one somebody pulled a head off.
The single cover is a parody of the cover for the album Nevermind, which is the album that Smells like Teen Spirit, the original of this parody, was on.
Spy Magazine
| Year | Award | Winner |
| --- | --- | --- |
| 1993 | Video of the Year | Smells Like Nirvana |
Rolling Stones
| Year | Award | Winner |
| --- | --- | --- |
| ???? | Top 100 Videos of All Time - #68 | Smells Like Nirvana |
Single
| Year | Chart | Position |
| --- | --- | --- |
| 1992 | The Billboard Hot 100 | 35 |
| 1992 | Mainstream Rock Tracks | 35 |