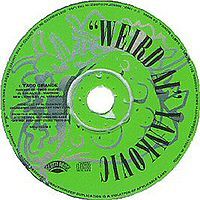 Song: Taco Grande
Running Time: 3:45
Year: 1992
Album: Off The Deep End, The Food Album, Al-In-The-Box, Taco Grande
Parody of: Rico Suave by Gerrardo
Genre: Latin hip hop
Guitar tuning: E standard
Lyrics: Lyrics
Video: None
Download/Listen: None
Forum: Forum Discussion Page
Another one of Al's many food-themed songs; this one is about a man's obsession with Mexican food, including:

Chimichangas: deep-fried burritos.
Chile colorado: "Colored chili"; a beef stew made with a red chili sauce.
Steak picado: "Chopped steak"; a beef stir-fry.
Flautas: "Flutes";crispy fried tortillas with some sort of filling, such as chicken or cheese. (Also called "taquitos", which are also mentioned).
Tamales: starchy corn dough and various fillings steamed inside a banana leaf or corn husk.
Chile relleno: "Stuffed chilis"; chili peppers stuffed with various fillings and deep fried in egg batter or corn flour.
Tostada: "Toast"; a deep-fried or toasted tortilla, with or without fillings or toppings.
Carne asada: "Roasted meat"; a steak that is grilled and cut into slices and is a common ingredient in many dishes.
Enchilada: a filled corn tortilla covered in chili sauce.
Flour tortilla: a flat, circular, flexible bread that is the basis for countless Mexican dishes.
Quesadilla: a tortilla filled with cheese (and sometimes other ingredients), folded in half and grilled.
Tacos al carbon: tacos filled with ingredients grilled over charcoal.
Burrito ranchero: "Rancher's burrito"; a burrito (large tortilla stuffed with various fillings and wrapped into a tight cylinder) served with a tomato-based ranchero sauce.
Refried beans: beans that are cooked and then mashed.
Nacho chips: also just called nachos; refers to tortilla chips covered in melted cheese and sometimes other ingredients.
Chicken fajitas: tacos made with grilled chicken.
Peach Margarita: a cocktail consisting of tequila, triple sec, lime juice, and peaches.
Taquitos: another term for the aforementioned flautas.
Chile con queso: "Chili with cheese"; a bean and/or beef-based stew topped with cheese.
Pico de gallo: "Rooster's beak"; a type of salad used as a condiment or garnish, consisting of chopped tomato, cilantro, onion, chili peppers, salt, and lime juice.
Jalapeños: a certain type of green chili pepper, ubiquitous in Latin American cuisine.
Guacamole: a dip consisting of mashed avocados, salt, lime juice and spices.
Pinto beans: the most common type of bean in Mexican cuisine.
Cinnamon crispas: a dessert consisting of flour tortilla chips covered in cinnamon and sugar; formerly a popular Taco Bell menu item.

Though no video was filmed for this song, Al once aired Gerardo's original "Rico Suave" video with the audio for "Taco Grande" dubbed over it as a video on an Al TV special.
The bridge features a rap in Spanish by Cheech Marin, best known as one half of the comedy duo Cheech and Chong.

Translated into English, he says: "Good evening, sir, and welcome to Enrico's House of Salsa. We have many very delicious dishes. May I recommend the burning chicken from hell. Very delicious. Your eyes will burn. Your stomach will be on fire. You'll be in the bathroom for a week! Do you understand what I'm saying, you stupid gringo idiot?"
Despite his comedic persona being that of a Spanish-speaking Mexican immigrant, Marin is not actually fluent in Spanish; Al had to write the lines in English and have them translated into Spanish by an employee of Scotti Bros. Records so Marin could read it off of a sheet.

Unusually for one of Al's parody songs, a cover version of this song exists, by Fred Mollin and the Blue Sea Band with Tim Buppert on vocals. It was recorded for and released in 2007 on Ratatouille: What's Cooking?, a CD of food-themed songs released in conjunction with the Disney/Pixar film Ratatouille.

Since it's on an album intended for children, the line "and peach margaritas" was changed to "and I'd love some carnitas", and Cheech Marin's Spanish-language rap during the bridge was replaced with a recording of restaurant ambience and a New York-accented guy saying "Do you guys serve tacos?"
Al filmed a "What's in my bag?" video for the Amoeba Records store in Los Angeles, in which he is shown purchasing this album for his daughter.
Community content is available under
CC-BY-SA
unless otherwise noted.