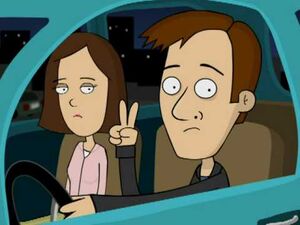 Song: Trapped in the Drive-Thru
Running Time: 10:56
Year: 2006
Album: Straight Outta Lynwood
Parody of: Trapped in the Closet by R. Kelly
Genre: R&B
Lyrics: Lyrics
Video: Yes
Download/Listen: None
Forum: Forum Discussion Page
This is the second longest song by Weird Al so far, next to Albuquerque.
Weird Al is actually a vegetarian.
The name of the restaurant in the music video is "The Drive-Thru."
The song clip from the car radio that plays for 17 seconds starting at 6:25 is a re-recorded sample from Black Dog by Led Zeppelin on the album Led Zeppelin IV, starting at about 0:36. Weird Al had previously asked Jimmy Page if a Led Zeppelin song could be used in a polka, in which Jimmy turned down. He did however allow Weird Al and his band to re-record a sample of Black Dog for the song, Jimmy has stated too that he is a fan of Al's work.

The reason for this song's long running time is that Al decided to compile all the segments of this song into one as opposed to making them separate (just like the original R. Kelly track) for fear of risking omitting a track on Straight Outta Lynwood to make room for extra disk space.
Community content is available under
CC-BY-SA
unless otherwise noted.