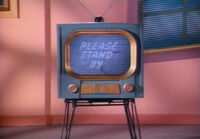 Song: UHF
Running Time: 5:09
Year: 1989
Albums: UHF, The TV Album, Greatest Hits 2
Parody of: Style Parody of "State of Shock" by the Jacksons w/Mick Jagger
Genre: Hard rock
Lyrics: Lyrics
Video: Yes
Download/Listen: None
Alternate Versions: UHF (Single Version)
Forum: Forum Discussion Page
This song is the theme from the movie UHF Starring "Weird Al" Yankovic.
This is one of the many "Weird Al" songs where the theme is Television.
"Weird Al" and his band parody in the music video in order: Guns n' Roses, George Michael - "Faith", Robert Palmer - "Addicted to Love", Prince, Talking Heads - "Once in a Lifetime", Peter Gabriel - "Sledgehammer", ZZ Top, Billy Idol - "White Wedding", The Beatles, INXS and Randy Newman - "I Love L.A.".
At some point in the music video, "Weird Al" parodies Bob Dylan. He does the same thing in the music video for Bob.
The music video for this song is noted as "Weird Al"'s most ambitious music video to date.
The only difference between this and the single version is that this has an extended guitar solo and an extended opening.
Al saying they "control the horizontal" and "the vertical, too" is a reference to the 1963 television show The Outer Limits.
Community content is available under
CC-BY-SA
unless otherwise noted.