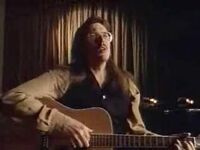 "Headline News" is a parody song by "Weird Al" Yankovic. The song is a reworking of the Crash Test Dummies hit, "Mmm Mmm Mmm Mmm", about three abnormal children. "Headline News", in jest, is about three news stories of the mid 1990s: Singapore caning American delinquent Michael Fay, Tonya Harding's boyfriend beating her figure-skating rival Nancy Kerrigan, and Lorena Bobbitt removing her husband's penis (although "weiner" and "Mr. Happy" are used as euphemisms) with a knife.
The song was never officially released on a studio album and is only available as a CD single, the cover of which is a parody of the Crash Test Dummies album, God Shuffled His Feet. The song does appear on Yankovic's Greatest Hits Volume II album and a box set entitled Permanent Record: Al In The Box.
Yankovic's Straight Outta Lynwood concert tour contains new lyrics as part of the medley, referencing Britney Spears, dealing with her 2007 head-shaving shock and underpants-less limousine trip in late 2006, and Paris Hilton, detailing her trip to prison.
The manualist is the same as in "I Love Rocky Road."
Dr. Demento makes an appearance as one of the concert attendees leaving at the end with the large woman in a muumuu.
Community content is available under
CC-BY-SA
unless otherwise noted.