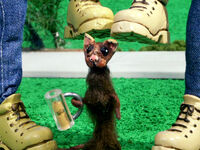 Song: Weasel Stomping Day
Running Time: 1:36
Year: 2006
Album: Straight Outta Lynwood
Style parody of: Christmas carols and Albert Hague("Trim up the Tree")
Genre: Classic pop
Lyrics: Lyrics
Video: Yes
Download/Listen:
Forum: Forum Discussion Page
The video was made by the creators of Robot Chicken, and was aired as a segment on the show.
The squeals of the weasels were provided by Al's wife and daughter, as well as his pet poodle and cockatiel; the sounds of them being crushed were made by abusing various fruits and vegetables.
One of the characters wears Peta t-shirt. Peta is "animal saving" organisation.
Community content is available under
CC-BY-SA
unless otherwise noted.