Welcome to the "Weird Al" Wiki, a wiki about "Weird Al" Yankovic!
And YOU can edit!
"He who's tired of Weird Al is tired of life." - Homer Simpson
So far, we've got 921 pages about Weird Al, his songs, his albums, and everything in between.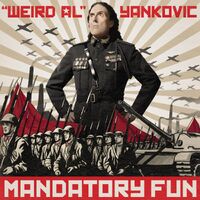 Al's 14th album, Mandatory Fun, has been released! It parodies artists such as Lorde, Robin Thicke, and Imagine Dragons! Buy it today!
Videos have been released for Tacky, Word Crimes, Foil, Handy, Sports Song, First World Problems, Lame Claim To Fame, and Mission Statement! Watch them here!

Nothing happened today in Weird Al History